The time has come for a blog party...a very big blog party! Welcome to Where Bloggers Create II, hosted by Karen Valentine of
My Desert Cottage
. (Note: There is now a blog that archives all the party participants' blog posts so you can visit them whenever you like:
Where Bloggers Create
.)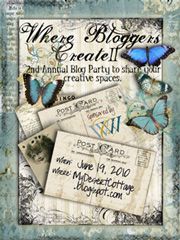 I design and hand make original soft sculpture teddy bears and other works in my home studio. Though they are not meant for children because of the small parts, I hope the members of New Avenue Crew remind you of the joyful parts of your childhood and help you remain a kid at heart. (Pictured above is Herr Grünhosen, one of my favorites, who was adopted by a lovely lady.)
And now, on to our tour!
Out here in the Wild, Wild West of Colorado, there are wide open spaces for wide open thinking. I enjoy this bright, sunny room and its mostly empty floor space for thinking about new designs, occasional sewing, stuffing bears, oh, and...
...spreading out.
Here you can see many of my pieces of mohair and alpaca, which is the "fur" I use for my bears. These fabrics feel so lush and soft.
Sometimes ideas come just from seeing and feeling a piece of mohair and its texture, color, and finish. (Mohair fabric is made from the hair of the angora goat. The goat is shorn, and the hair is cleaned and carded much like wool would be. Then it is spun and woven into a cotton backing before being treated to a dye bath and texturing techniques.)
I have had this particular piece of mohair for many years. Holding it makes me think I would like to make a sweet, traditional-styled bear from it.
Most of the time, my mohair stash is kept neatly folded in boxes. But it is fun to spread out on occasion!
Come on in to the family room and my favorite chair.
Here, I can draw out my ideas and sketch and doodle away. Drawing is a lifelong pastime for me. You'll often see me here accompanied by a cup of tea and a bear or two. I've even been known to stuff bears here, and you can occasionally find me sitting on the floor surrounded by bags of stuffing, plastic pellets, and excelsior (wood wool), bear and stuffing tools at hand.
Let's climb the stairs now. I understand if you're a little winded at the top; we live at approximately 6,700 feet above sea level!
This is the loft, where many ideas become reality. I work on my sketches here, draw out pattern pieces, cut the pieces from fur, and write my blog. (I also work here full-time as a proofreader for a fabulous advertising firm,
Garrigan Lyman
.) Of course, my desk isn't always so neat and tidy.
It usually looks a little more like this when I'm in the middle of an idea session. You should see it when the fur's flying!
The loft is also a favorite place to get down on the floor with fabrics and stuffing materials and to be inspired by the old playthings that belonged first to my uncle (the big bear) and my mother before I played with them as a child. I remember taking Uncle Bill's bear out to the sandbox with me. Such a patient bear! Yes, the Steiff truck is new--from the '80s?--as is the little brown bear, but they belong together. And the coat? I believe my mom made it when she was a girl. My dollies wore it when I was young.
Let's wander down the hall to what's officially known around our house as "the studio." I share this space with my sweet husband, who likes to paint landscape paintings when he has the chance. (You can see one of his paintings above my favorite chair, above.)
Here, armed with my trusty Pfaff Hobby sewing machine, I sew my bears' parts. (A bit of trivia for you: a basic traditionally styled teddy bear typically has 21 pieces that need to be sewn together.) After a few frustrating years of using hand-me-down sewing machines that liked to create huge thread balls on the back of my mohair, my wonderful husband bought me this Pfaff shortly after we were married. Bless his heart!
Teddy bears need a lot of hand sewing, too: embroidering the nose, attaching the ears, closing the body and limbs after stuffing, and more. You can find me in any of these spots around the house doing handwork if there's enough light. And sometimes, I'll sew outside in the sunshine.
Back in the loft with sweet Logan the bear is where we'll part--for now. Very soon, I'll share Logan's special story with you here on the blog. And, I'm excited to say, I'll also be offering a few of my bears for adoption very soon. Three of them have made appearances in this blog post. They just couldn't pass up such a fun party.
I hope you have enjoyed your visit to New Avenue Crew's studio. We sure enjoyed having you! Please feel free to make yourself comfortable and stay for a while. (
Here is the link to the full New Avenue Crew blog.
We hope you'll become a follower and come back to visit often!) And be sure to visit the
archived party blog
so you can see more places where bloggers create. Thank you, Karen, for putting together such a fun event!