I've been thinking a lot about inspiration lately as I've been drawing out new ideas and working on new designs. What inspires me to create? I am inspired quite often simply by the beauty of the world God has created. I see some of the rugged Rocky Mountains out my window--a real treat. A friend is adopting two kittens soon and sent me pictures; little furries are always inspiring. I love to see "the real thing" and take that as inspiration in my own designs. Recently, I've been looking at pictures of a particular animal so I can design my own...to be revealed all in good time. Only when it's just right will it be a Crew member!
Color and texture, fabric and thread, posture and shape, design and detail are also inspiring for me of late. I am eager to jump into new areas with color and fabric and texture and shape and detail this year. There are two artists who have been inspiring me lately that I would like to introduce to you. You may already know them; I have been familiar with their work for years, but only recently have I gotten to know them online. These two sweet ladies have been very encouraging to me.
Earlier in the spring of this year, I stumbled upon Lori Ann Corelis's blog,
the Spotted Hare
. Lori Ann is a treasure trove of inspiration! What she does with wool felt and mohair and thread is fantastic. Her use of color and pattern and texture is helping me think in new directions. Hop on over to her blog to see her darling creations, her fabrics and trims, her outings, her finds, and even the rabbits in her kitchen garden.
Another new find is Donna Griffin's blog,
Donna and the Bears
. Donna is not afraid to use bold color in her creations, and she is making bears on a small scale these days. Her 4-inch butterfly bear Allistar is the cover boy on the latest issue of
Teddy Bear Review
, and it contains a feature article about Donna, to boot. Though I won't be making smaller bears (my eyes and hands just don't cooperate in such an endeavor), I would like to incorporate some more color in my work.
Both of these ladies are so lovely, and it's been a pleasure meeting them. Thank you for the inspiration and for your encouragement, Lori Ann and Donna!
Speaking of inspiration, there are so many creative bloggers out there. Whether they make bears or rabbits or dolls, collect antiques, decorate their homes, take photos, or write stories, their creativity is inspiring. I've found that I enjoy seeing their blogs, particulary when they share
where
they create, and I know that others do, too. There's a party coming up that celebrates where bloggers create: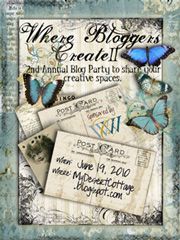 I have taken the plunge and signed up to be part of the festivities on June 19, 2010. (Click the image above to go to the host blog and find out more.) So now I need to get out the camera and have a little fun. Hope you'll drop in on the party on the 19th to see where I and more than 399 others create.